9 Free Halloween Party Printable Ideas
Happy Halloween, creative friends! It's Halloween party time, and oh boy, do I have a spooky fun list of Halloween party ideas for you! If you are having a Halloween celebration, you'll love this. We have so many fun Halloween party printable ideas and treats. You are sure to find some spooky inspiration here.
Disclosure: Some links on this page are affiliate links – meaning I may receive a commission if you click through and make a purchase at no additional cost to you. For more information, read our full affiliate disclosure here.
This blog post is packed with Free Halloween Party Ideas to use at your next spooky fun event. Grab that black cat, and let's create. I am going to show you a simple way to make some Halloween treat bags.
With the big list of treat ideas and printable decor ideas for your Halloween party, you'll be creating until Christmas. You are going to love these free Halloween Party Ideas you can create with the freebies listed at the end of this post. Some of the free Halloween Party Ideas are:
Printable Banner ideas
Printable Halloween party games
Halloween Party Invitations
Fun Halloween Games
Halloween Party Favors you can DIY
Halloween Home Decor
Fun ideas for Halloween Parties
Free Halloween Party Printable Treat Bag
Use this free Halloween download for your treat bag decor. Next, I'll show you how I made a quick treat for the goblins with things I had at home, but you can use this idea and add the printable to a pre-package treat too.
First, let's talk about some supplies
This is pretty simple and the only item I had to buy was the candy corn! ha. I used plain copy paper for the tags but you can use card stock with is a thicker paper and might look a little more professional.
Paper (8.5X11″ is what the PDF is designed for)
Color Printer
Scissors or paper trimmer
Stapler (or you could tape them too)
Candy / Treat
Bags if your treat isn't pre-packaged
Steps to make this Free Halloween Party Printable Treat Bag
Begin by printing out the Free Halloween Party Treat Bag Printable on a regular size piece of paper.
I like to make sure the printer is actual size. This won't shrink the image so when you cut it out it will be centered.
Each full page has 4 treat bag templates. Begin by trimming the page in half the long way and again to make the 4 treat bag tags.
Now, fold the each treat bag tag in half like show here
This step is a good time to write on them before they are attached to the treats. You can still add names then too but it might be harder when attached to some treats.
Next, prepare your treat bags. Add candy to the tall ziplock bags or event these colored treat bags are fun too. I got these from Walmart.
When filling you'll want to leave a little space to fold them one at least once. We will staple the tag on top soon.
These Halloween Treat bags are so simple the kids could help with this one. Once the bags are filled, close the ziplock or fold over the bag and add your tag.
Simply staple on each side to hold in place.
You can even add these to packets of hold chocolate or tea for a fun treat for a teacher or co-worker. They also work some fruit snack packets if you want some ideas that are prepackaged.
That's it. You can add stickers or punch a whole in the top for a ribbon or string if you want
Grab the free download for our treat bags and make your Halloween party treats in no time. They are for personal use and commercial use for handmade items. Read more here on rights to use the files on our site.
Free Halloween Party Ideas to DIY
Each month my crafty friends and I get collaborate to show you more ideas and other crafters. This month is no different, so get those caramel apples ready and let's party!
Find lots of ideas for every age group. Most are easy peasy great Halloween activities for the whole family to enjoy. Grab your favorite free Halloween printables and other fun things for your spooky fun party!
I'm curious, what are you favorite Halloween activities?
a Rafflecopter giveaway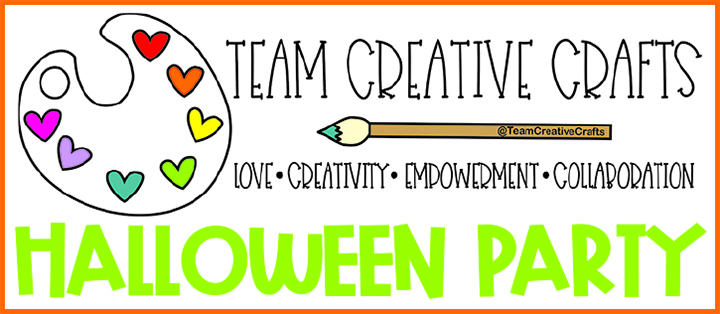 About Chelly
DIYs and designing SVG files are my passion. I feel so blessed to get to do what I love on this site for work. If you are a crafter or a craft business owner, I invite to look around and have fun! Read more…