10 Cricut Graduation DIY Ideas
Find projects as simple as a graduation card, to amazing graduation party decor – and of course using some free graduation SVGs on some projects.
Disclosure: Some links here are affiliate links – meaning, at no additional cost to you – I may receive a commission if you click through and make a purchase. For more information, read our full affiliate disclosure here.
I've compiled a list of many of my favorite DIYs for your graduation open house.
Find graduation SVGs, Cricut graduation card SVGs, cute grad DIYs for graduation parties, ideas for graduate gifts you can create with your Cricut or Silhouette. Many projects allow for you to personalize the projects with the class year for a personal touch.
So many of these Cricut Graduation DIY ideas are perfect for a first time Cricut user too.
1. Cute Graduation Cap Gift Box for Cricut Graduation DIY Ideas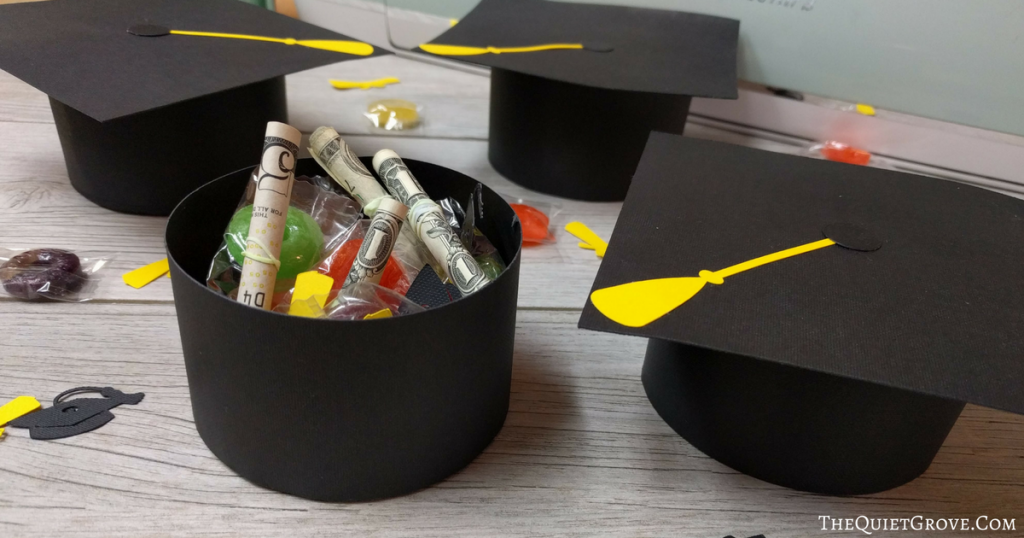 At the end of the school year, along with it comes graduation time for many bright young minds. These are also perfect and easy to make as a gift for your party guests. Like these fun Graduation cap boxes, I made with my Cricut and filled with treats, graduation confetti, or cash. Perfect for an open house at this year's graduates celebration from The Quiet Grove.
2. Personalized Cap and Napkin, Cricut Graduation DIY Idea
Amy from Leap of Faith Crafting loves personalized everything (thank you Cricut!) LOL! With some iron-on vinyl and a few dollar store napkins — you can make your own elegant or funny custom napkins. What a cute and simple way to get creative with graduation projects this year. Check out her post for the settings and temps to create these.
So many creative ideas to use these ideas during graduation season.
They are perfect for high school open house parties and also college graduation celebrations. Let's keep going!
3. Class of 2022 Graduation Card SVG
Grab your Cricut machine and our Class year Graduation Card SVG cut file for this easy-to-make card. They fit into a regular business envelope but can be resized. Check back each year and find the Class of ((year)) you need. You can change the colors you see in Cricut Design Space if you want to "see" the end results before you cut. You can continue the graduation celebration by adding a check for $20.23 too! haha
Or this card also works to add in gift cards. TIP: Use the Cricut pens to write a personal message. This one has a graduation cap SVG file included to use in many other decor projects.
Note: (This card would have to be shrunk for the Cricut Joy.)
4. Free Dad of the Grad SVG
My creative friend Elise at Polka Dotted Bluejay has shared this free SVG design for a mug for dad. It can be a great gift for the grad party – and if you want to add it to a beer stein, check out our glass etching blog post to make him a dishwasher safe glass!
5. DIY Grad Cap Idea
Some graduates are allowed to decorate their caps and this idea is simple and cute! Erin from Everyday Party Mag walks through how to decorate a graduation cap cover. Then, he could take it off and put it on as he needed to (I didn't even know they made grad cap covers!) This is a good project to use your Cricut Easypress.
There is so much to do as your 'baby' approaches graduation day. When my kids were graduating I had a Pinterest board ready like I was planning a wedding. LOL! But then you blink and the big day is here. I want to help you decorate for your kids' graduation open house with these simple graduation DIYs. Follow me on Pinterest to find more ideas!
6. Graduation Origami Money Card
You'll find more graduation card ideas from Melissa at Papertrey Ink. Her cards are sure to make you break out your Cricut Maker and some fun papers!
Whether it's medical school, college, high school, or even kindergarten, graduation is a special day to celebrate. Graduation is all about celebrating what your loved one has accomplished and their future dreams. Make your special someone a graduation card that they will cherish for years to come.
SVGs for Graduation from We Can Make That
We are almost done with this Cricut Graduation DIY Ideas but next up on our list is an SVG you can use for a graduation gift idea.
7. Cricut Graduation DIY Idea for a Grad Shirt!
Let's open the Cricut app and make a fun sassy graphic tee! This SVG is cute for a graduation gift on a new tumbler for the graduation ceremony gift. Grab this It's Glad To Be Done SVG in our shop.
This is one of my own designs here in our shop. If you are looking for the perfect gift for your graduate this one is easy to create! Grab a shirt from Hobby Lobby in the school colors and add some vinyl! When you open this SVG cut file, you can use a font and add on Class of 2022 to personalize it.
---
Looking for a deal on SVGs?
Grab our SVG club subscription and get access to all the files on our site now, plus the new ones we add each month!
---
8. Cricut Graduation DIY Banner Idea
If you have a graduate and are throwing a graduation party, you for sure need an easy DIY Graduation Banner made with Chery's fun Graduation Hat SVG File and the Diploma SVG from That's What Che Said blog. These are cute and easy to coordinate with school colors for some simple but cute decor.
These banner pieces could be customized by adding a graduation year. A fun project maybe even your graduate can help with!
9. Make A Cool Graduation Champagne Glass Party Favor
Make an adorable DIY graduation champagne glass party favor with your Cricut. These party decorations are sure to get some compliments. Make them all in different colors or go with the traditional black hats and school colors for the tassels.
10. Congrats Grad SVG cute file
This is perfect for decor at your grad party. Or make the new graduate a tumbler with his school colors. This is a simple design but it's cute too! This SVG from Cheryl at That's What Che Said, would make an especially fun tees for a high school graduation party.
About Chelly
DIYs and designing SVG files are my passion. I feel so blessed to get to do what I love on this site for work. If you are a crafter or a craft business owner, I invite to look around and have fun! Read more…